Breed Characteristics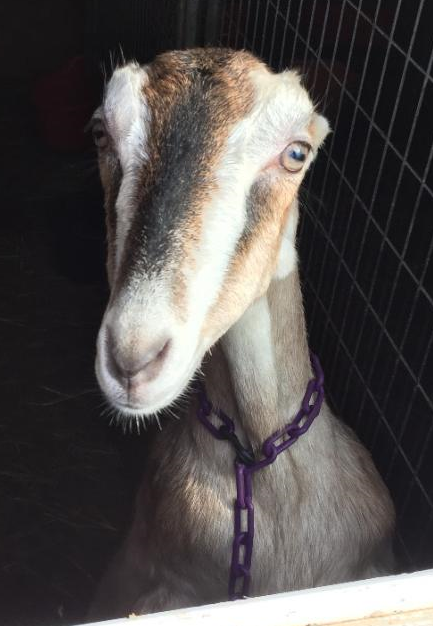 LaMancha does are at least 28 inches tall and weigh 130 pounds while bucks are at least 30 inches tall and weigh 160 pounds. Any color or color combination is acceptable.
​In 2019, the average LaMancha doe on milk test produced an average of 3.7% butterfat. The Nigerian Dwarf (a miniature breed) and the Nubian are well known to be the highest butterfat producers; however, the LaMancha has earned the recognition of having both high milk and butterfat production! The LaMancha was third in protein and butterfat percentage after the Nigerian Dwarf and the Nubian (3.2%). ​(https://adga.org/knowledgebase/breed-averages/)
The hair is short, fine and glossy and the bridge of the nose is straight. The distinctive feature of the LaMancha is very short ears. To be registered, bucks may have ears no longer than one inch with little or no cartilage. Does may have ears up to two inches in length.
The LaMancha breed was developed in the United States and is known for its calm nature. It produces well in a variety of climates and conditions. If you're curious about how this American-developed breed came into existance, check out this article:
"The Tale of the Ear" from Quixote Lamanchas.
---
Our LaMancha Herd
Does:
We are listing our doe herd by family groupings in the tables below.
Lilly Family
| Name | LA Score | DIM | Milk | Fat | Prot | Highlights |
| --- | --- | --- | --- | --- | --- | --- |
| Caplon Kidz Lilly | 03-06 82 (A+AV) | 139 | 1273 | 56 | 38 | Smaller stature, yet a milking powerhouse. |
| Redeemer Acres Jelly Bean | 0205 83 (++AV) | 502 | 3667 | 145 | 116 | A farm favorite with great udder texture. |
| Redeemer Acres Beautiful Rays | Scheduled 8/22 | 154 | 1110 | 32 | 29 | Very pretty udder with a blended fore. |
| Redeemer Acres Rose | Scheduled 8/22 | 151 | 1504 | 93 | 45 | Capacious udder and a dream to milk. |
| Redeemer Acres Passion | Scheduled 8/22 | | | | | Sweet big-bodied girl. |
| Redeemer Acres Sunshine | Scheduled 8/22 | | | | | Long, tall, stylish, nice bisket. |
---
Miss Maddie Family
| Name | LA Score | DIM | Milk | Fat | Prot | Highlights |
| --- | --- | --- | --- | --- | --- | --- |
| SG Livin' My Dream HE Miss Maddie 2*M | 02-07 86 (VVVV) | 186 | 2140 | 55 | 61 | Added an elite doe with superior genetics to our farm. |
| Redeemer Acres Miss MapleSugar | Scheduled 8/22 | | | | | Big powerful first freshener. |
| Redeemer Acres Miss Moo | Planned 2023 | | | | | Deep bodied with nice angulation. |
| Redeemer Acres Miss Mule | Planned 2023 | | | | | Nice legs with a balanced body. |
Moriah Family
| Name | LA Score | DIM | Milk | Fat | Prot | Highlights |
| --- | --- | --- | --- | --- | --- | --- |
| Autumn-Acres Moriah | 01-07 (+V++) | 160 | 1330 | 49 | 34 | Long, deep body with udder that milks out beautifully. |
| Redeemer Acres Mt. St. Helen | Scheduled 8/22 | 475 | 2206 | 70 | 60 | Long level doe on extended lactation. |
| Redeemer Acres Mt. Marmolada | Scheduled 8/22 | | | | | Smaller doe, beautiful high mammary. |
| Redeemer Acres Mt. McKinley | Planned 2024 | | | | | Cute little kid that likes to show off. |
| Redeemer Acres Mt Mantigueira | Planned 2024 | | | | | Pretty kid with a very long level back. |
| | | | | | | |
---
Herdsires:
---