Purebred LaMancha buck
ADGA Registration #PL2070023
DOB: 02/05/2020
Sire: +*B SG OPPORTUNITY WC WINNING COLORS, LA: VG86 VE+
Dam: SGCH CALICO PATCH DS SNICKERS 2*M, LA: EX92 EEEE
Genetic Information
DNA on file. Collected 2021.
LA Scores
Awards
Description
Belted black and white, wh facial stripes, legs and trim.

---
Licorice's dam
Licorice's dam is SGCH Calico Patch DS Snickers 2*M. Snickers is the all around package – this is the type of doe that you want a herd sire from! Snickers appraised at EX92 EEEE as a three year old. Snickers excels in dairy strength. She is sharp over the withers, long and lean in the neck, smoothly blended in her shoulders with great spring of rib and width in chest and escutcheon. She stands on very correct feet and legs. Her dam is a very tall, dairy doe with a stunning mammary and lots of udder capacity and will to milk, topping her 2016 lactation at 16# for 3 straight milk tests. Snickers was #3 for Milk and #4 for Protein on the 2018 ADGA Breed Leader List. She was #2 for Milk, #3 for Fat and #4 for Protein on the 2020 ADGA Breed Leader List. She freshened in February 2020 and immediately came into heavy milk production topping out at 19# on test day! She milked through in an extended lactation from 2020 and attended the 2021 National Show where she was awarded the High 305 Milk and Fat and High Lifetime Milk and Fat awards AND she was named the LaMancha Total Performer!
Photos courtesy of Raintree Dairy Goats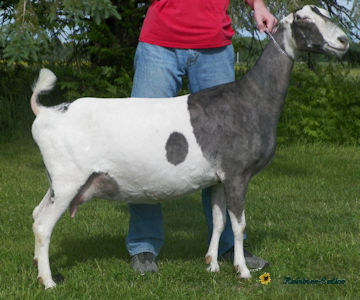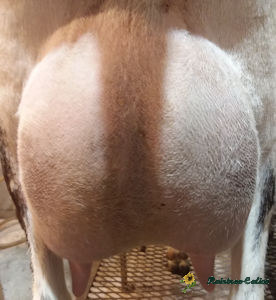 ---
Licorice's sire
Win is very stylish and showy excelling in dairy strength. He is very smoothly blended, very sharp over his withers, very level over his topline and stands on beautiful feet and legs. He has beautiful extension of brisket and great openness of ribbing.
Win's dam, Grey, excels in dairy strength, body capacity and especially mammary. She has a simply stunning udder…. high and wide in the rear and long and smoothly blended in the fore with beautiful area of attachment. Her sire is Kickapoo-Valley Wild Charade who has some very promising young offspring. Charade is sired by *B Rockin-CB KV Wild Thing who had some lovely daughters in the Kickapoo-Valley herd and has been used quite extensively. He was the 2011 National Premier Sire. Charade is out of CH Kickapoo Valley Aint Arcadia who was the 2010 and 2011 National Junior Champion and has a simply stunning mammary.
His dam, Grey, appraised a permanent 92 EEEE at this year's appraisal and is projected to a +3500M record this year. Win's biggest drawback is that he goes into rut each year in late April and by appraisal time has nearly starved himself to death…. hence no appraisal score for 2016.
Win's 2015 daughters all excel in General Appearance and Dairy Strength. His first daughter kidded in January 2017 and more came into milk in 2018 and we can't say enough about the beautiful does he is siring. All excel in dairy strength and mammary.
Win has been 2X ALC All American Supreme Buck. He earned his SG designation in August 2020.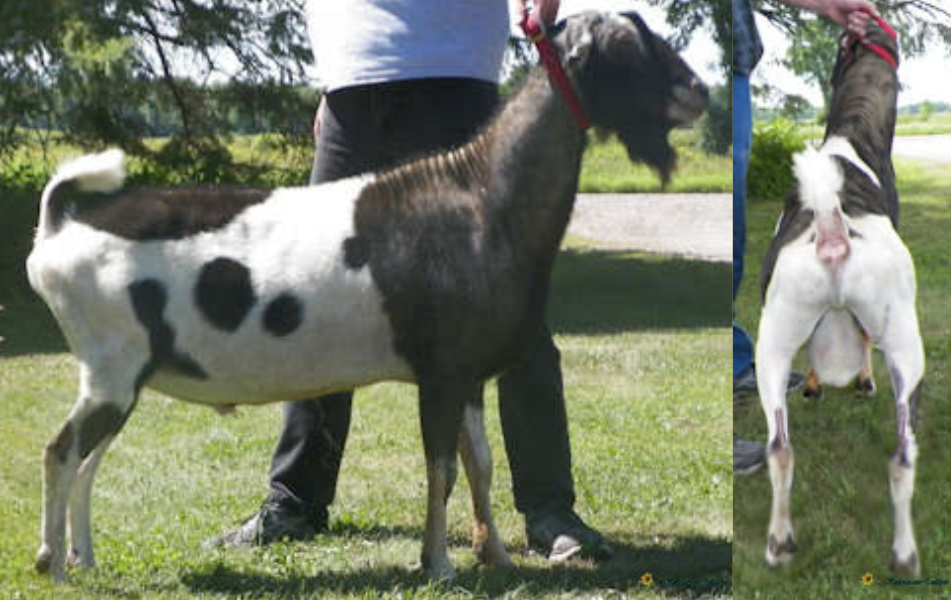 ---