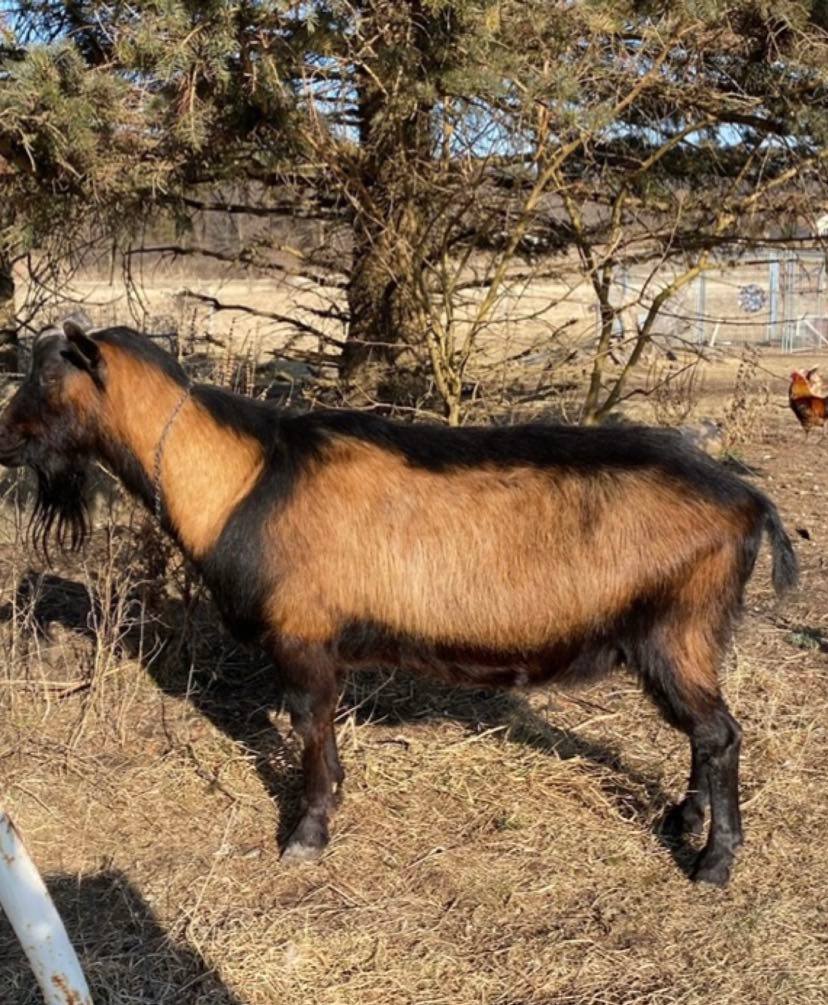 American Oberhasli buck
Registration #AB1727018
DOB: 03/17/2015
Sire: +*B SG HAYCREEKS X SOLUTION, LA: 05-03 EX90 VEE
Dam: SGCH HEAVEN'S HOLLOW SHILOH 6*M, LA: 08-05 EX90 EEEE
2012 ADGA National Champion
Genetic Information
DNA on file. Parentage Verified.
LA Scores
2017: 02-03 VG88 VEV
2018: 03-05 VG88 VVE
Xtra excels in head, shoulder assembly, rear legs, back, rump, dairy strength, and body capacity. He is very good in front legs and general appearance.
Awards
2015: *B
Description
Medium bay with black markings.
---
Xtra's sire
Xtra's sire is +*B SG Haycreek's X Solution. Solution excels in sharpness and height at the point of withers, length of body and levelness of topline. In addition, he has excellent feet and legs, with near perfect set to the rear legs and short, strong pasterns! His first group of doe kids, born this spring, are exhibiting these same strengths, especially the improvement of feet and legs over their dams.
Solution's dam, SGCH Haycreeks Arrio Senterfold 3-06 90 (EEEV), has passed to her son a combination of tremendous style, balance and correctness of front end assembly. She easily finished her championship as a two year-old and also has received her Superior Genetics designation.
Solution's littermate sister, CH Haycreeks Xcited Sona, has done very well in the show ring being 1st place with 1st place Udder Two Year-Old at the 2013 ADGA National Show and 3rd place Senior Yearling at the 2012 ADGA National Show, as well as appraising VG89 (EEEE) as a first freshener. Solution's paternal sister, CH Cardinal Hill XCA Limerick, is the 1st place/1st place Udder Two Year-Old in 2012 and 2nd place/2nd place Udder Three Year-Old at the 2013 ADGA National Show. She has an amazing udder with tremendous area of attachment, length of fore udder with height and width to the rear. Another paternal sister, Haycreeks Xcited Falen, was named the 2013 ADGA Junior National Champion and 1st place Intermediate Kid at the 2013 ADGA National Show.
His young daughters are showing strength in the show ring with Haycreeks Solution Seeker being 1st place Junior Yearling Recorded Grade at the 2013 ADGA National Show, and Haycreeks Solution Shay was Reserve Junior Champion Oberhasli at the 2013 Minnesota State Fair. ~ Morgan Allen
Reference: Bio-Genics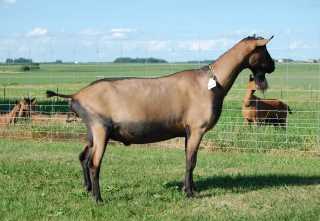 ---
Xtra's dam
Xtra's dam is the 2012 ADGA National Champion Oberhasli, SGCH Heaven's Hollow Shiloh 6*M. She is a very long doe with a wide level rump and tons of dairy character, and we couldn't ask for a better attached udder. She is a paternal 1/2 sister to Lil Lady and Zoretta (2008 Res Jr National Champion). Both of these does have stunning general appearance and very well attached udders, and both of them are top ten milkers. She is also a maternal sister to Stetson (the 2010 Spotlight sale buck). Her dam, 5*M SGCH HEAVEN'S HOLLOW SHOTSI, was the 2008 Res National Champion and the 2009 National Champion that appraised with a 92 (EEEE). She produced 4080 lbs milk in 2008. Shiloh has set a new farm record for Best-in-Show wins.
Reference and photos courtesy of: Heaven's Hollow Dairy Goats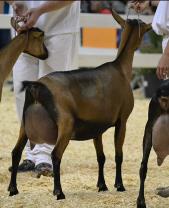 ---